---
23rd Annual Fashion Show – Growing in Style – December 2016
Co-chairs Kathy Jones and Peggy Drennan-Cihi, for the second year in a row, pulled out all the stops and orchestrated a memorable fundraising event for members and friends to enjoy. This event funds a total of five annual local scholarship awards, generously supports STEM opportunities for middle school girls and enables our branch to support AAUW research, education and action on the national level.
Click photos to enlarge!
Before taking the runway in Chico's fashions, our models took a moment with Peggy Thomas, Mary Kay specialist, and Ursula Sahakian, hair design specialist, for that added touch of runway glamour.
Members and guests were greeted with piano selections performed by Bob Cihi and given easy access for buying raffle tickets sold by Mary Jane McDowell and Betty Bechtel. The laden tables displayed scores of coveted and pricey prizes.
Click photos to enlarge!
Our member models: Wendy Wassman, Janice McPeak, Marilyn Workman, Geri McArdle and Nancy McDole showed the latest in Chico's fashion on a runway that spanned both dining rooms. Dressed for the occasion and providing assistance were Ron Glasgow and Ron Carmany.
Click photos to enlarge!
S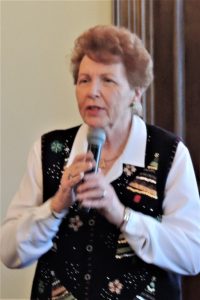 harron Thompson once again expertly led the attendees through a funny and fast paced live and silent auction and efficient distribution of the many raffle prizes.
Photo credit: Bev Londono and Erin Hunter
---
AAUW Shopping Spree at Chico's Company Store
Members enjoyed our Second Shopping Spree at Chico's Company Store. The savings were incredible with most items 20% of what they would be in the stores. The camaraderie was almost palpable as almost 100 women without dressing rooms, tried clothing on over other clothing or bathing suits, and freely gave advice. "That looks good on you." Or "If you're not going to take that, may I try it on?" The Chico's staff later commented that "Your ladies were very well mannered. Sometimes we get rowdy groups in here." We shopped, we saved, we had fun and we raised $600 for AAUW's operational expenses!
---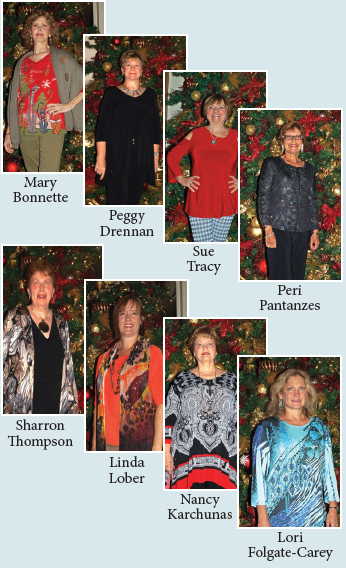 Ladies:
The GREAT news is that we netted $10,744 for our 20th annual fashion show. A tremendous thank you to all of you who attended this incredible event at Grandezza, made contributions, donated items, or were a part of our amazing committees that worked so hard. As you know, this is our major fundraiser for the year, and we could not be more proud of everyone who helped make this such a success. Grandezza was magnificent, the food was wonderful, Razzle Dazzle dazzled us with their beautiful outfits. The live/silent auction and raffle were lots of fun and very profitable. All in all, it was more than outstanding. Again, thanks to all of you who did so much to help us "Step Up and Give Back".
Phyllis and Jemetta,
Fashion Show Co-chairs

---
Women's History Month
On March 1st the AAUW and the LWV combined to welcome Sonia Pressman Fuentes to speak in celebration of Women's History Month. Her talk reviewed the history of the women's movement from the 60's through the present day. She was the first women attorney for the EEOC, the Equal Employment Opportunity Council and also a co-founder of NOW, the National Organization for Women. Her speech was enjoyed by all who attended. At the conclusion of her talk people had the opportunity to speak with her and purchase her book.
---
More Than a Garage Sale
In the beginning the plan was to have a garage sale to earn $2014 for the operations of the branch. With the flexibility and creativity of Co-Chairwomen, Carolyn Nance and Mary Bonette and sale hostess, Judith Sims, and Marie Glasgow, President, it became more. Suzi Weinert, author of the Garage Sale Mystery series agreed to a book signing of her two Garage Sale Mysteries. A Gypsy theme was chosen with volunteers wearing costumes and Gypsy music. Hot coffee and pastries would be sold in the morning and after 11:00, hot dogs and pop.
So many beautiful, like-new, quality clothing and household items were donated that a mini-sale at the Feb meeting was held with volunteers modeling and a table of the  "better stuff" sold. This seemed to increase sales and donations. The success of the presale and the bounty of beautiful items inspired a Members and Friends (invitation only) Presale, "Your Sister's Closet." Most of the interesting old house and yard were used and chicken salad on croissants with grapes and a chocolate cookie were served with a choice of beverages.
The day of the sale 15 volunteers arrived before dawn to move items outside and organize. There was a mad dash to prepare as the first of hundreds of shoppers began to pour in. The cashiers collected moneys and several members were "negotiators." Suzi came, brought donations, enjoyed the members, found a few "treasures" and sold books. The Gypsy Rose Café was busy and profitable.. Merchandize was consolidated to avoid the off-putting picked-over look. At the end of the day, the dollar-a-bag offer was a boon for shoppers and reduced the inventory to something the Salvation Army was willing to pick up. The three sales have brought in $4398.75 to date with several IOU's outstanding.
Our success was multi-faceted. Certainly we were successful financially beyond our expectations. We reduced our clutter and shared wonderful stuff! 58 Members socialized while they worked getting to know each other bette. We shared the fun and excitement of a job well done and doubling our goal. This was a team building experience, and much more than a garage sale!