We welcome as new members, women who have graduated from an accredited two or four year college or university, worldwide. Some of our members join as "dual members" who have their primary membership elsewhere but attend our meetings when they are in Florida. Whether you live in Lee County full-time or part-time, you are very welcome to join us.
Please click here to download/print a membership form.  Your completed membership form and dues check should be mailed to AAUW Fort Myers/Lee Co. Branch, Inc., P.O. Box 2115 Fort Myers, FL 33902-2115.
If you have any questions regarding membership, dues or would like to attend a meeting/lunch before joining, please contact our Membership VP at aauwleecounty@gmail.com.  New members receive a discount of 50% on their membership fee for the first year.
Membership in our branch affords an opportunity to
network with community leaders and women of varied backgrounds
hone our leadership skills
advance our AAUW mission
help shape the lives of the next generation of women leaders.
There are also opportunities to join a variety of interest groups including book discussion, bridge, hand & foot, mah-jongg, lunch bunch, movie/theater and dinner.So if you desire to become an activist or just more active – take a cue from Juliana Nord, a member who inspired us for many years "and Just Show Up [as this] is where it all will begin."
Florida State Convention                                                      
The weekend of April 15 – 17, Barb Carter, Suzan Harden,Bonnie Lincoln, and Judy Sims attended the biennial AAUW FL State Convention held in Palm Beach. The theme this year was Shaping the Future: Fair Pay, Fair Play.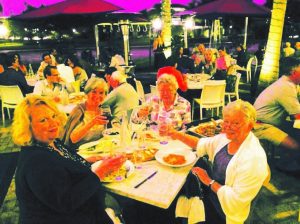 Karen Coolman Amlong, JD, was the keynote speaker. After being passed over for a promotion in her first job out of college because it was assumed she would get married, get pregnant, and quit, Karen began to understand the nature of workplace discrimination. She did not know what to do about it, but when she stumbled into a NOW meeting, she found her focus. She organized NOW chapters across Florida. At 27 she was the first woman elected to the Florida House of Representatives from Broward County. After her first term of office, she went to law school. She won Florida's first major sexual harassment lawsuit, Stockett v. Tolin, in 1992. She has been a tireless advocate for ending discrimination since that time. One of the great things about her story is that her husband Bill has been her partner all along the way, including attending our convention.
Lily Ledbetter, author of GRACE AND GRIT: MY FIGHT FOR EQUAL PAY AT GOODYEAR AND BEYOND, was the featured speaker at Saturday's luncheon meeting. Lily's lawsuit for fair pay resulted (after a 10-year battle) in the Lily Ledbetter Fair Pay Act of 2009, the first law President Obama signed into effect. Following Lily's presentation was a panel discussion featuring Lois Frankel, US House of Representatives, Palm Beach; Lori Berman, Florida House of Representatives, Palm Beach; and Shirlyon McWhorter, Director of Equal Opportunity Programs and Diversity (including Title IX) at Florida International University. Lisa Maatz, Vice President for Government Relations at AAUW, moderated the panel discussion. Sue Barley, national AAUW board member who is from the Greater Naples branch, brought greetings from national and made a presentation about various programs at the national level.
Lisa Maatz, outlined AAUW's legislative priorities. Lisa's career in lobbying began when, as a 3rd grader, she realized the boys' bathroom had doors but the girls' did not. She got students to sign a petition and presented it to the principal. Two weeks later the girls' bathroom had doors. She is AAUW's top lobbyist and is a sought-after speaker, political strategist and activist.
Our branch received a certificate for increasing our membership. Two of our members, Naomi Bloom and Marie Shively, received ribbons as a "Friend of AAUW" for their contributions to the AAUW Fund.