We hope that you will browse all the pages of our website and enjoy learning about the activities and events that our branch organized and supported to further the AAUW mission, proving, once again, that "Women working together have no limits."
---
March 2018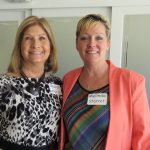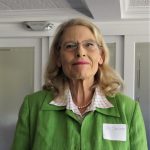 Into the Jordan Ministries – Human Trafficking in Lee County was the March program presented by Sharon Aldrich and Melinda Starrett. Melinda is a survivor of trafficking and spoke about the trauma involved in being trafficked and how it impacts the lives of women. Sharon described the services that their organization offers women seeking to get out of trafficking. Located in downtown Fort Myers, they work with women ages 18 and over. At any time, they have 20-40 women involved with their different services.  Melinda is the co-director of "Into the Jordan Ministries"
Members welcomed Jill Jennings to our Ft. Myers/Lee County Branch and were reminded that dues for the 2018-19 fiscal year were being collected.
---
February 2018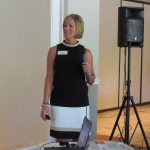 Sarah Mitchell, Health & Wellness Coordinator for Lee Health Wellness Center, was invited back after her informative presentation last year. She enjoys navigating members, and employees, as well as the community, to the best possible resources for the individual's health and well-being. She is certified through Wellcoaches School of Coaching as a Health and Wellness Coach. In this role, her goal is to empower, motivate and guide clients to healthy behaviors to achieve optimal wellness. Sarah is the facilitator for Lee Health Brain Booster Workshops and Lee Health Weight Management Exercise Program.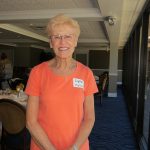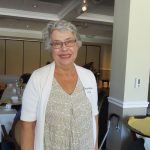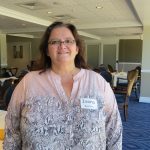 New members pictured below, Lynne Felice, Raymonde Howell and Ivana Kucera, were welcomed to our Lee County/Ft. Myers Branch
---
January 2018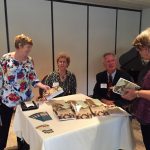 Robin Tuthill and Tom Hall, co-authors of Female Pioneers of Fort Myers, shared the rich personal stories of twenty-four exceptional women who suffered and overcame rigorous hardships, incomprehensible loss and numbing tragedies.  Their lives impacted the development of the town's culture, buildings and amenities from 1866 through the 1900s. Through riveting stories of success against the odds, Female Pioneers of Fort Myers brings to the forefront the everyday female leaders who helped transform Fort Myers from a rough-and-tumble cow town into a modern-day city. Members quickly bought up autographed copies for their libraries and for gifting.
---
NOVEMBER 2017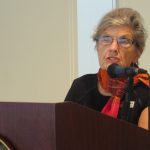 It cannot be disputed when we state that our branch has a membership that is active within AAUW and beyond, where ever we can promote gender equality and the empowerment of women. Our speaker, Roberta Balmer, is a winter resident in Fort Myers and member of our branch. During the summer Bobbie resides in Ottawa and one of the 20-person delegation of the Canadian Federation of University Women. The CFUW priority theme at this summer's conference was women's economic empowerment in the changing world of work. Bobbie not only summarized all the information gathered and important contacts made at this conference, she also told us how to make the best use of time with so many diverse sessions offered.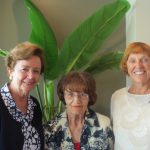 We also welcomed three new members: Lois Benedetto, Peg McEwen and Nadine Coudret. Actually, Peg was a member some years ago and upon returning to this area, she quickly became a member.
---
OCTOBER 2017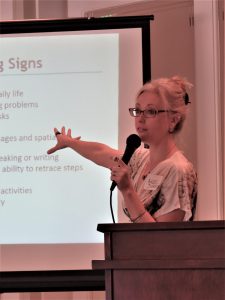 Most of us have been touched by Alzheimer's disease through friends or relatives and know how devastating it is to watch the person we know slowly disappear right before our eyes. Angel C. Duncan, MA MFT, ATR Neuropsychiatric Research Center of SW FL presented facts and figures regarding the future outlook for persons diagnosed with Alzheimer's or other related dementias. Angel stressed that life style factors are most important to sustaining a healthy brain.
New members, Therese Cinotto and Peg (Margaret) McEwen were welcomed. Cathy Tucker, co-chair of the 2017 fashion show, Give to Achieve, updated the membership as to the wonderful auction and raffle items that have been donated. Tickets to the event are still available. See the Special Events page.
---
SEPTEMBER 2017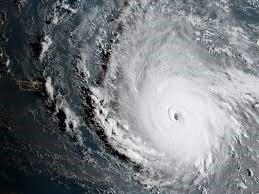 Our scheduled meeting was cancelled to allow members and guests to concentrate on pulling together and helping our community recover from the devastation of Irma. We hope to see all of you in October. Please check the Meetings Page for dates and program information.